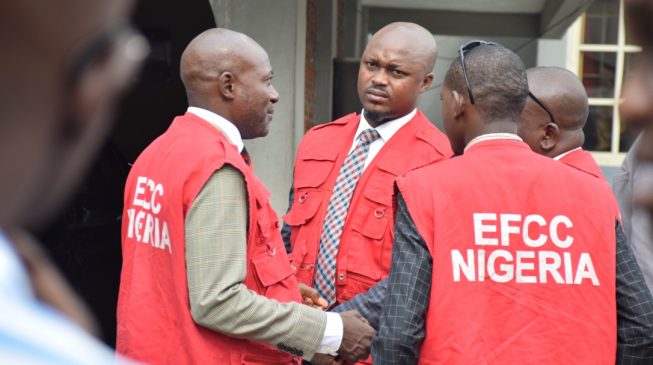 Mohammed Umar, the acting Chairman of the EFCC has approved the deployment of some officials to head zones and units.
In a memo seen by TheCbale, the EFCC boss, who is a deputy commissioner of police, redeployed a total of 37 officers, 20 of whom were listed as heads of various zones and units while others listed as second in command.
The ranks of some of the newly deployed officers are principal detective superintendent (PDS), deputy chief detective superintendent (DCDS), chief superintendent of police (CSP) and assistant commissioner of police (ACP).
They were directed to resume their new duty posts immediately.
It was gathered that the latest redeployment have left some officials demoralised, according to sources.
An official of the EFCC said: "the new posting just came out and level 12/13 officers are put as zonal heads over a level 16 officer to be taking instructions from?" the source said.
"Legal department is not working. Until issues of seniority are addressed, there can never be justice and the law officers just sit back and watch. EFCC is the only agency where seniors take orders from juniors."
Below is a list of all the officers who were redeployed:
Baba Mallam
Daniel O
Itam Obono
Babalola Johnson
Hadjia Mohammed
Chukkol Abdulkareem
Onwukwe Obiora
Mukhtar Bello
Ozugha Innocent
Edeh Uchenna
Oseni Kazeem
Bawa Kaltungo
Kumo Modibbo
Ringim Hauwa
Akogwu Eleojo
Amusan Kolawole
Abdullahi Lana
Adebayo Adeniyi
Oshodi Johnson
Akinroyeje Toyosi
Mualledi Dogondaji
Bawa Saidu
Aliyu Nuhu
Abdulrasheed Ahmed
Usman Muktar
Ahuchogu Austen
Ishaya Dauda
Usman Sambo
Ajani Aminat
Mohammed Sanusi
Thomas Kadiri
Abdullahi Sanusi
Ahmad Sabir
Rilwan Hamzat
Bamisaye Oyedele
Ahmed Usman
Pls SUBSCRIBE below to our Youtube channel and mailing list to get fresh updates on money making and inspiring videos and articles.