Nigerian Instagram Celebrity, Hushpuppi wows his followers with a new video as he takes delivery of his 2020 Rolls-Royce Cullinan SUV.
Popular Nigerian Instagram sensation, Ray Hushpuppi is at it again. The Dubai-based "Big Boy" surprised his Instagram followers recently when he uploaded a short video showing off his newly acquired 2020 Rolls Royce Cullinan SUV that is worth approximately ₦117.2million.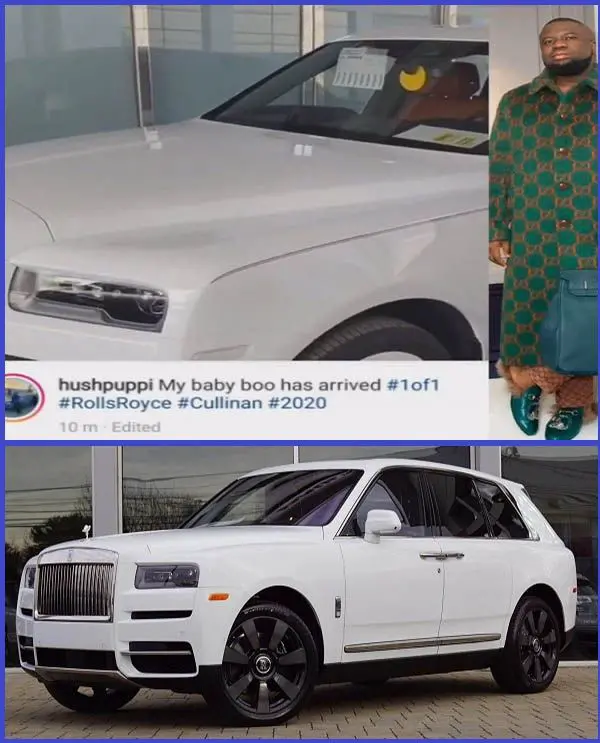 Ray Hushpuppi takes delivery of a brand-new 2020 Rolls-Royce Cullinan SUV
Just 2 months ago, a huge controversy sparked after Instagram users spotted the same purple Rolls-Royce Wraith in Ray Hushpuppi's photo and U.S rapper, Lil Pump's photos. This type of coincidence has many times led Hushpuppi's followers to believe he is living a "Fake life" and is never really the owner of the exotic cars he usually poses with, in his photos. See the controversial photos from the last coincidence below;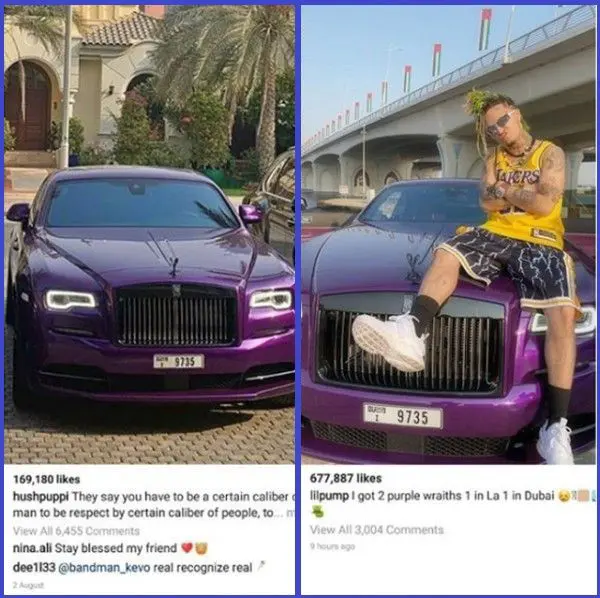 Ray Hushpuppi and U.S rapper Lil Pump share photos of the same Rolls-Royce car – who is the real owner?
Fast forward to this month; Ray Hushpuppi has posted a new video recently where he showed off a brand-new 2020 Rolls-Royce Cullinan SUV that he calls his new "Baby Boo". This SUV currently is worth an estimated ₦117.2million ($325,000) starting price excluding shipping fees.
Ray Hushpuppi boasts of a new 2020 Rolls-Royce Cullinan SUV worth millions of naira
Ray Hushpuppi whose real name is Raymond Igbalodely, used to be a ghetto kid raised in the Oworonsoki and Badagry area of Lagos state before he became a popular internet sensation in 2015 after moving to Dubai. Since his relocation, he became an Instagram celebrity who got many followers within a short period of time as he is loved for showing off expensive luxury cars and lifestyle.
Some of the cars that Hushpuppi claims he has in his collection include;
Ferrari 488 GTB (worth ₦92million)
Mercedes-Benz G-Wagon
Mercedes-Benz Maybach S650 (worth ₦72million)
Range Rover Sport
Ferrari 458 Italia (worth ₦150mllion)
Bentley Bentayga (worth ₦84million)
Pls SUBSCRIBE below to our Youtube channel and mailing list to get fresh updates on money making and inspiring videos and articles.