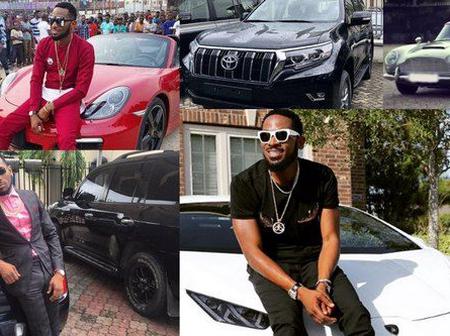 #5. 2Face – ₦5.76 Billion net worth
This Jos born music star has his real name as Innocent Ujah Idibia but known on stage as 2Face or 2Baba. He has found himself in the top ten richest musicians in Nigeria due to his great talent and hard work. The talented man was born on the 18th of September, 1975. The way Idibia rose up was from nothing to something, and then he became among the best Afropop singers in Africa.
His music career has continued to flourish since he went solo from the Plantashun Boiz group he started with; he was a top signing for Kennis Music early in his career. He released the album that brought him to limelight in 2004 with the famous 'African Queen' song. He has won himself awards like the Headies, MTV Music Awards, and BET Awards.
2Face is married to Annie Idibia although he has children from 3 different women; he has a total of 7 children and 2 girls are from his wife.
2Face's cars and houses
Tuface owns 2 mansions in Lagos, as well as relaxation lounges at Lagos Island, Festac and Ikeja. He is not very open about his rides, but here are the cars that were caught riding by 2Face:
Chevrolet Corvette Coupe (~₦45million)
Ferrari Coupe (₦57 million – ₦80 million)
Used Toyota Land Cruiser Prado (₦30 million – ₦52 million)
#4. D'Banj – ₦6.12 Billion net worth
The Nigerian hit songs by D'banj always come out spectacular; a musician with a controversial fan base as his will surely survive in the business. His real name is Daniel Oyebanjo Oladapo, born in Zaria on the 9th of June, 1980. D'Banj is known to be very keen to business opportunity even when it looks as if his performance both on stage and in releasing songs is reducing.
D'banj music career actualized when he met with Don Jazzy, and they had to create Mo'hits record label; he started getting endorsement deals, and remains the ambassador for many top brands, and has won for himself many awards like BEFFTA Award for African Legend, and has been rated by the T.I.N. Magazine where he was placed as the second richest Nigerian musicians in 2016.
He married to Lineo Didi Kilgrow, who he had a quiet wedding with away from the cameras; they have a son.
D'Banj cars and houses
Ranking #4 in the list of richest Nigerian musicians, D'Banj can buy himself any luxurious things he wants. He has 3 mansions, one in Lekki, another in London and USA, a whopping car collection with at least 10 expensive cars. See the list below:
Rolls-Royce Wraith (~₦200 million)
Porsche 911 Carrera (~₦42 million)
2 Aston Martin Vantage (~₦50 million each)
Bentley (~₦108m)
2 Toyota Land Cruiser Prado (₦30 million – ₦52 million)
Mercedes Benz SL500 (~₦30.8 million)
Used Mercedes Benz C Class (₦14.8 million – ₦30 million)
#3. Don Jazzy – ₦6.66 Billion net worth
Don Jazzy is known for his wonderful music production and hard work incorporated with his persistent ability to easily make up sound relationship both in Nigeria and across the border. Don Jazzy's full name is Collins Michael Ajereh, and he hails from Umuahia in Abia State, and was born on the 26th of November, 1982
He started his big music career working with D'banj to make various hit tracks as Mo'hits record before they went their separate ways in 2012. After which he created the new record label being Mavin Records which brought many artists to make more great music. Artists like Wande Coal, D'Prince, Tiwa Savage, Reekado Banks and many more; he even rebranded the label to become Supreme Mavin Dynasty (SMD). Don Jazzy includes his deep voice in the music often, this touch adds a spectacular note even as he produces the beats for hit songs. His career has brought him awards as a top music producer.
Don Jazzy is not married despite his age, he focuses on making more good music and raising more star artists in the Nigeria music world.
Don Jazzy's cars and houses
Don Jazzy has 3 mansion, one at Lekki, one in Banana Island, Lagos and another at Los Angeles, USA. He also rides exotic cars inluding:
Porsche 911 Carrera (~₦42 million)
Bentley Continental (~₦25 million)
Cadillac Escalade (~₦27.2 million)
Used Mercedes Benz E350 (~₦20 million)
#2. Wizkid – ₦7.2 Billion net worth
Wizkid is such a unique and talented musician and he started right from a very young age. One surprising aspect of this young musician is the way he went global to sing with some of the top foreign musicians. His real name is Ayodeji Ibrahim Balogun, born on the 16th of July, 1990 at Surulere in Lagos. He is the first Nigerian musician to rise up to be recognized in the Guinness Book of World Record for the most played song on Spotify. This is as a result of the song he did with Drake titled "One Dance"
He began his big career with E.M.E records and released the 'Superstar' album that contained a hit track "Hola at Your Boy". The song gave him the award for 'next rated artist' at the Headies, and he continued rising from there. He now owns the Starboy Entertainment and has not stopped giving good music to his fans.
The Starboy boss is not married, but he has a child with Sola Ogudugu, and he has been in series of controversies with a few other artists like his former boss – Banky W, Olamide and a few others.
Wizkid's Cars and houses
Wizkid has a N13 million mansion at Surulere, Lagos and another one at Los Angeles, Califonia, USA. This star always flies a private jet, and he is valued at a net worth of N7.2 billion. His car collection is full of expensive models, such as
Lamborghini Urus (₦80 million)
Porsche Panamera (~₦50.8 million)
Used Mercedes Benz G63 AMG (₦55 million – ₦65 million)
BMW X6 crossover (₦8.7 million)
#1. Davido – ₦9 Billion net worth – The official richest musician in Nigeria
Here comes the current richest musician in Nigeria, and that is Davido. His real name is David Adeleke, born in Atlanta, United State of America to a rich family. His father, Dr. Deji Adeleke is a co-founder of the Adeleke University in Osun state, and the CEO of Pacific Holdings Limited. The song that brought him to great popularity is "Omo baba Olowo"; as it went viral especially in Africa. He made some deals with companies such as AXE, Infinix, and a lot of others.
His music career started with the KB International group with his first album "Omo Baba Olowo". He has featured so many artists both Nigerian and foreign stars, and these moves have brought him to the top class position in the industry. Davido co-owns HKN music record with his brother, and they have artists like Peruzzi and some others signed to the label. Davido has bagged multiple awards in his music career from the Headies, MTV music, and a lot more others.
Davido was born on the 21st of November, 1992 and is the youngest artist in the list of richest Nigerian musicians.
Davido is not married currently, but he has a strong affair with his girlfriend Chioma as he gifted her a N45 million Porsche as birthday gift. Before dating Chioma, he had had two daughters with different ladies.
Davido's cars and houses
Just like how he is advancing in the music industry, you can say Davido house and car is second-to-none among Nigerian musicians. He has two mansions in Lekki, Lagos and a getaway mansion in Georgia, USA. Davido's car collection is dazzling with:
Rolls Royce Cullinan 2019 (~₦350 million) (rumored)
Bentley Bentayga (₦108 million)
Bentley Continental GT (~₦95 million)
Porsche Panamera Turbo S (~₦22.8 million)
Range Rover Sports (₦84 million – ₦90 million)
Range Rover SV Autobiography (₦98 million)
Chevrolet Camaro GS (₦9.4 million)
Audi R8 (₦23.4 million)
Audi Q7 (₦12 million)
Mercedes-AMG GLS63 (~₦45 million)
Mercedes G-Wagon (~₦21 million)
Toyota Land Cruiser (~₦30 million)
Besides the most expensive cars, Davido also owns a private jet that once took the media by storm.
Pls SUBSCRIBE below to our Youtube channel and mailing list to get fresh updates on money making and inspiring videos and articles.