Kanye Omari West is not new in American show biz. The 42-year old is a songwriter, producer, singer, record producer, entrepreneur and fashion designer. The Altanta born is now a billionaire according to Forbes Business.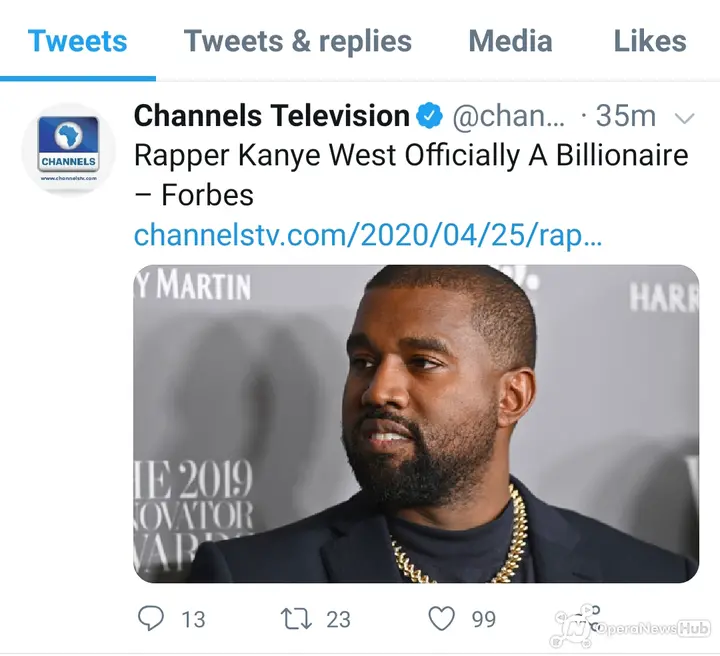 The popular star has joined Jay Z, the husband of Beyonce to be a hip hop billionaire with a current net worth of $1.3 billion.
The husband of Kim Kardashian and a father of four can be official called a billionaire now.
His 15 percent royalty he made from Yeezy foot wear which is in partnership with Adidas raked in 140 million dollars for him.
Some of the assest made available to Forbes before, he was recognized as a billionaire are 81 million dollars in building and improvements, 297.050 million dollars in livestock, 21 million dollars in land and 3.8 million dollars in vehicles.
His music label GOOD, recorded songs and publishing rights are estimated around 90 million dollars.
According to Forbes, half of Kanye West's asset belongs to his popular wife Kim Kardashian who is a television personality.
Kanye West who is one of othe best-selling music artists worldwide has won 21 Grammy Awards for himself. 
Pls SUBSCRIBE below to our Youtube channel and mailing list to get fresh updates on money making and inspiring videos and articles.