It is no longer news that the price of oil in the international market has crashed. In the United States and Canada, for instance, oil sells for far less than a dollar. The situation is not too different in Nigeria as its oil price hit an all-time low of 12 dollars per barrel today. We are all watching and hoping that the prices go up somehow, because the Nigerian economy is almost completely dependent on sales of crude oil.
We are not alone in worrying about this, it appears. Social media critic, Mr. Reno Omokri, has also given thought to all the problems facing the world, and Nigeria in particular. In a post shared online, Reno explained that it is now clear to all of us, why Femi Otedola sold his stake in Forte Oil and decided to invest in a power company. It was as if he knew what was about to happen in the oil industry.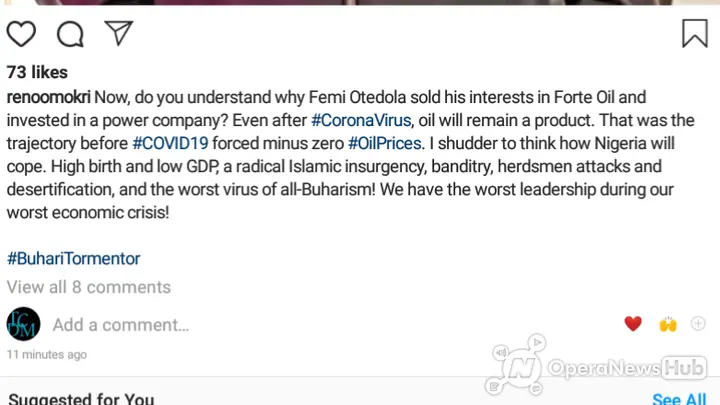 Not only does Nigeria have a high birth rate and low gross domestic product, we have other internal security challenges to deal with, in addition to the coronavirus pandemic. The future seems bleak for Nigeria and the world at large. We can only hope things get better soon.
Pls SUBSCRIBE below to our Youtube channel and mailing list to get fresh updates on money making and inspiring videos and articles.