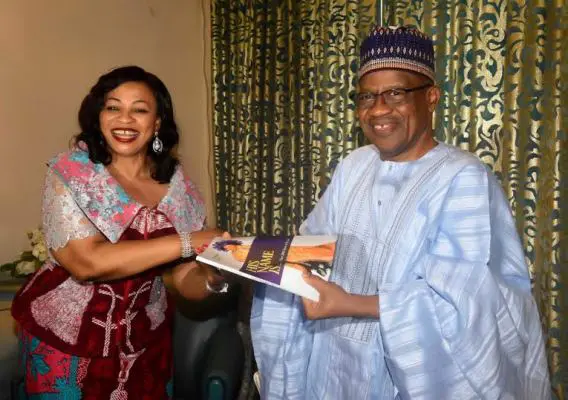 Folorunsho Alakija is a household name in Nigeria today. Her popularity stems partly from her philanthropic disposition to the fact that she remains one of the richest blessings black woman as well as one of the most influential women on Earth.
Some years back the internet went aflame with news that Folorunsho Alakija, a Nigerian female oil magnet has been announced as the richest black woman (reportedly pushing Oprah into 2nd place). Many described Mrs Alakija as a "billionaire oil tycoon, Fashion designer and philanthropist". Her net worth was at "at least $3.3 billion, far above a recent Forbes Magazine ranking which pegs her net worth at only $600 million". This is a seriously impressive amount of money, especially when you consider the fact that only 30 years ago Folorunsho Akakija was a well-known fashion designer with zero experience, expertise or investments in the oil industry. And no, she wasn't worth anything near $3.3 billion dollars back then.
No doubt you're curious as to how Folorunsho Akakija managed to earn $3.3 billion dollars in the first place. Well, Ventures Africa has the standard hagiographical account of Alakija's improbable rise to richest black woman on Earth. Fittingly, the story begins in Nigeria, the only country on earth where anyone is able to become a 'billionaire oil tycoon' virtually overnight.
Oil magnet Folorunsho Alakija
Alakija, 61, was born into a wealthy, polygamous Nigerian family. She started out her professional career in the mid-70s as a secretary at the now defunct International Merchant Bank of Nigeria, one of the country's earliest investment banks. In the early 80s, Alakija quit her job and went on to study Fashion design in England, returning to Nigeria shortly afterwards to start Supreme Stitches, a premium Nigerian fashion label which catered exclusively to upscale clientele. The business thrived, and Alakija quickly made a tidy fortune selling high-end Nigerian clothing to fashionable wives of military bigwigs and society women
One of those military bigwigs was one Ibrahim Badamasi Babangida, whose wife, Maryam, soon became a major client of Alakija's. In 1993, Ibrahim Babangida had become Nigeria's military dictator and Head of State of Nigeria and was in the final year of his 8 year reign after overthrowing the government of General Muhammadu Buhari in 1985. His wife, Maryam was of course Nigeria's First Lady at the time. Alakija had by then become the unofficial clothier to the now late Maryam Babangida, which is a pretty big deal in itself as Maryam Babangida had cultivated a reputation as a "celebrity and an icon of beauty, fashion and style'".
In May 1993, Alakija, applied for the allocation of an Oil Prospecting License (OPL) and was awarded a license by the Federal Government to explore for oil on a 617,000 acre bloc in the Niger Delta. Her known qualifications for the award of a 617,000 acre oil bloc were essentially that she made really nice clothes for Maryam Babangida.
"This was in 1993. Many wealthy Nigerian businessmen and military bigwigs who had been allocated oil blocs by the military administration at the time had no clue as to the technicalities in operating an oil bloc, so many of them typically acquired OPLs, and then flipped them off to international oil companies for substantial profits. But Alakija was intelligent. She had no expertise or experience in running an oil field, but she decided not to sell off her license. In September 1996, she entered into a joint venture agreement with Star Deep Water Petroleum Limited (a wholly-owned subsidiary of Texaco) and appointed the company as a technical adviser for the exploration of the license, transferring 40 percent of her 100 percent stake to Star Deep. Subsequently, Star Deep sold off 8 percent of its stake in OPL 216 to Petrobas, a Brazilian company. Folorunsho Alakija and her family owned 60 percent."
Alakija had no expertise or experience running an oil field. This is the most important thing you need to know about 'the richest black woman in the world'. She had no expertise or experience doing the thing from which she became stupendously and improbably rich.
Alakija was not qualified to be awarded a license to produce palm oil, much less crude oil. Ventures Africa won't say it but the truth is Folorunsho Akakija is allegedly worth $3.3 billion dollars because Ibrahim Babangida's wife's favourite fashion designer, somehow acquired a 617,000 acre oil bloc now worth $3.3 billion dollars of Nigeria's money.
Forbes Magazine, a significantly more respectable publication, estimates her wealth at a mere $6oo million dollars; considerably less than Oprah Winfrey's $2.7 billion dollar some years ago.
Today, Alakija may not be the richest black woman on Earth but she is one of the richest women in Nigeria. She continues to flourish in her oil business and she is an inspiration to many women across the world.
Pls SUBSCRIBE below to our Youtube channel and mailing list to get fresh updates on money making and inspiring videos and articles.