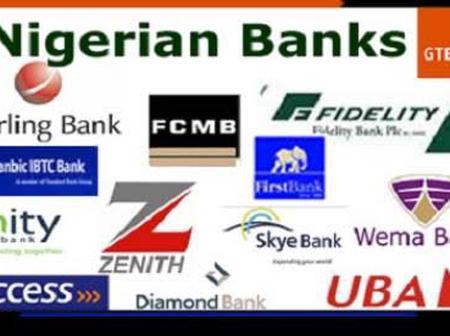 1. Guaranty Trust Bank (GTBank)
Popularly known as GTB, this bank has grown into a very big brand in the financial market. In fact, GTB is not only popular in Nigeria, but its impact is being felt in other parts of the world. A very profitable Bank, GTB has been able to raise tons of money from an initial public offer from London Stock Exchange and Deutsche Börse, and so, it is no surprise finding them sitting on the top spot of our list
. First Bank of Nigeria
First Bank Nigeria is the first bank in Nigeria, and since its time of establishment, the institution has continued to flourish even since this moment. There is an institution with a very large customer base, and remain one of the richest banks in the country. First Bank now has presences in other parts of the world, like in South Africa, United Kingdom, France and even in China. It is impressive to note that not too long ago, the management of the bank bought another bank in the Democratic Republic of Congo. The bank remains the second on our list, as they have total assets estimated to be worth $21.3 billion.
3. Ecobank Nigeria
Ecobank Nigeria has its own flaws quite alright, but still, the bank keepsake flourishing. Definitely, the management of the institution is being strategic, as it is impressive how the bank keeps growing despite all odds. Some months bank, the institution was able to acquire another one in the country (I.e Oceanic bank), and right now, the bank can boast of total asset that is over $6.174 billion – making it the third richest bank in the country. We should also add that the institution is actually a subsidiary of Ecobank – Pan African bank, with its headquarters in Lome in Togo. Ecobank is actually present in 32 countries, and they offer various financial serviced and products which many customers have been enjoying since they were established.
4. Zenith Bank Nigeria
This financial institution is now the fourth richest bank in Nigeria. The Bank is one of the hugest in the country, answer it can boast of millions of customers that keep contributing to its progress. Of course, we can't ignore the fact that the Bank has done a lot in keeping up with a nice standard, and its management should be given kudos too. Zenith can boast of a total asset that is worth more than $15.7 billion. The institution has been around for some time now, as it started in 1990 (although it went public in the year 2004). With consistency and hard work, Zenith Bank has been able to establish various branches in African countries like Gambia, Ghana and Sierra Leone. In fact, the bank has even touched a European country like the United Kingdom, and we are not expecting the management to get tired anytime soon.
5. Access Bank Nigeria
Here is another popular Nigerian bank with tons of customers and patronizers. Access Bank was licensed by the country's apex bank in 1998, and ever since, they keep blazing on. The management of the bank has been able to achieve a lot, including acquiring another Bank – Intercontinental Bank. Currently, it is being known that Access Bank of Nigeria has over 5 million customers, over 309 branches in different places in the country, as well as over 1500 ATMs. It is impressive to note that Access Bank has total assets that are over $12.6 billion.
6. United Bank for Africa
Popularly known as UBA, this financial institution is not only huge in terms of total assets worth, but also in customer acquisition. The bank has millions of customers as well as various branches in the continent. In fact, the United Bank of Africa has expanded to other continents too, now touching places like America, the United Kingdom, and France. We won't forget to add that the current institution that is known as UBA, is a merger of the old one, and Standard Trust Bank. It should also be noted that UBA has total assets worth of $12.3 billion.
7. Diamond Bank Nigeria PLC
Diamond Bank is the bank regarded as the seventh richest bank in the country. It was Incorporated in 1990 and has been offering financial services to the populace ever since. Diamond Bank has moved beyond Nigeria and is now touching other parts of Africa. With total assets that is worth more than $7.3 billion, Diamond Bank is undoubtedly one of the richest banks we have around.
8. Union Bank of Nigeria
Union Bank of Nigeria is a bank that, despite all odds, keeps flourishing. A very old financial institution, Union Bank is making waves not only in Nigeria but in Africa as a whole (rated the 14th largest bank in Africa in 2009). One of the factors promoting the institution is the tactful management decisions, and now, the bank without issues manages various corporations. Union Bank grew from Nigeria to become an institution with various branches in different parts of the world. The bank has satellite offices in places like South Africa, Europe, and various other places. Additional, Union Bank has a total asset that is worth over $6.8 billion.
9. Fidelity Bank
This financial institution was founded as far back as 1988 and has grown to become one of the biggest, largest and richest banks out there. The bank is known for its reliability, and it serves millions of customers from different parts of the country. Fidelity Bank carries out banking activities with the support of its over 200 global subsidiaries. Currently, the Bank has total assets that are estimated at $6.31 billion, making it the ninth on our list.
10. Skye Bank
Yeah, not one of the most popular names out there quite alright (as they don't have scattered branches all around the country as some other banks). However, it remains a huge financial institution, and it made the list of the top richest banks in the country. The bank has subsidiaries in various African countries including Sierra Leone, the Gambia, and the Republic of Guinea (as well as various others), and it boasts of a total asset that is worth over $3.9 billion.
Pls SUBSCRIBE below to our Youtube channel and mailing list to get fresh updates on money making and inspiring videos and articles.