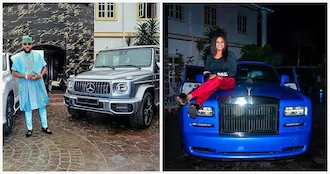 E-Money
Many Nigerians love to go through the incredible E-Money's pictures because this famous man knows how to catch you by surprise, show you delicious peeks into the rich life and introduce you to E Money Lexus, Mercedes Benz, and other expensive vehicles he owns.
E-Money's real name is Emeka Okonkwo, but you can easily find him on Instagram as @iam_emoney1. With nearly 3 million followers, this well-known entrepreneur, businessman, Chairman of Five Star Group (label record) from Nigeria attracts attention all the time.
E-Money pictures
If you wish to see the E-Money's latest car, the first thing you need to do is get into his Instagram account. The celebrity loves adding new photos and updates his account pretty often, and many of E Money pictures are the photographs of his latest vehicles.
Let's see what he has in his garage in 2019. This is something only real billionaires can afford because some of the vehicles, such as E Money Lexus, can cost over 30 million Naira.
E Money latest car and other vehicles in his collection
The influential man with a great taste only adds real style to his garage. Judging by the E Money new Lexus and other cars, his gifts to his wife, and his luxurious mansion, he values classic style and high-quality products.
In the car collection of E Money you can find the vehicles listed below including his latest car.
1. Rolls-Royce Phantom
For example, one of the latest cars purchased as Christmas 2018 gift is the Rolls-Royce Phantom.
This vehicle was a real Christmas surprise to E Money wife Juliet. According torollsroycelongisland.com, its 2019 model's cost starts from 500,000 U.S. dollars.
This awesome car looks amazing in pretty blue color. It boasts rear massage seats, leather trim, automatic climate control, and other fun features.
The photos of the blue Rolls-Royce Phantom as one of the E Money latest car that belongs to his wife are shared on his or her Instagram accounts. Thus, you can enjoy the luxurious looks and real style that should be popular in 2019.
2. Mercedes Benz G-Wagon
Another E Money latest car is the 2019 Mercedes Benz G-Wagon.
This is an awesome off-road car with classic design. It looks like a stylish monster that can conquer all possible roads across Nigeria.
According to truecar.com, such a luxurious G-Wagon can cost approximately 120,000-130,000 U.S. dollars.
The pictures of the newest G-Wagon are already added to E Money Instagram, so you can enjoy the updates and various looks of this luxurious vehicle.
3. Other cars
Going through earlier E Money Lexus purchase and all the previous cars this famous Nigerian owns, you will find a big collection of some of the most awesome Jeeps and vehicles.
For example, there is the bullet-proof 2017 Lexus LX 570 (according to naijauto.com, it was priced at about 90,000 U.S. dollars.
What Is Emoney Net Worth?
EMoney net worth is estimated at 1.5 billion Naira.
His Limousine and awesome N80m Maybach 62s (according toinformationng.com, could cost over 500,000 U.S. dollars).
Besides all these expensive vehicles, the celebrity owns Prado Jeeps, Range Rover Sport, BMW, Jaguar among other cars.
The huge car collection is amazing. Who doesn't dream of an E Money Lexus, latest G-Wagon or beautiful Roll-Royce?
Source: Legit.ng
Pls SUBSCRIBE below to our Youtube channel and mailing list to get fresh updates on money making and inspiring videos and articles.