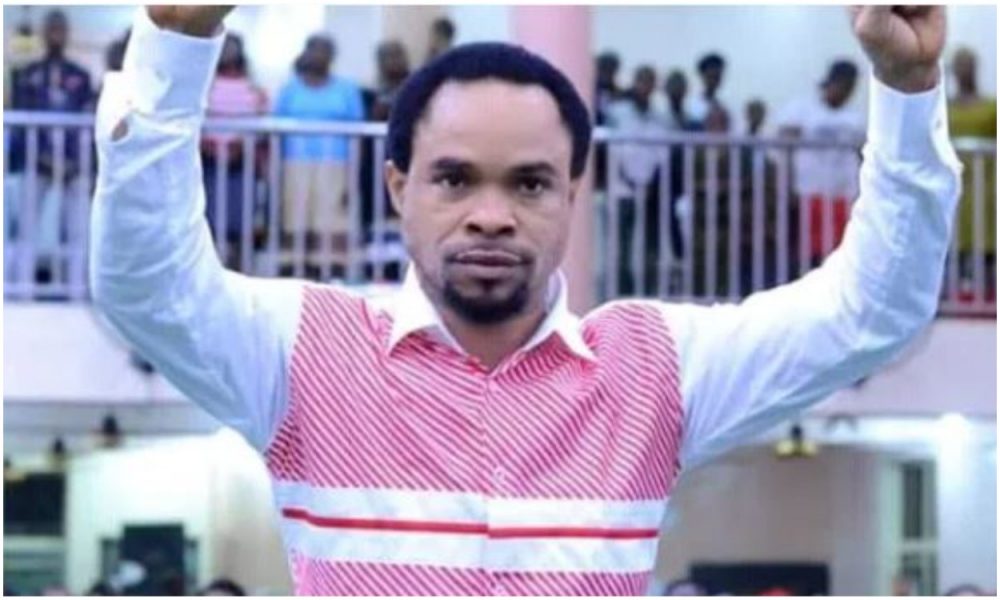 Controversial Nigerian self-acclaimed prophet Chukwuemeka Ohanaemere, better known as Odumeje, had predicted during a sermon in his church that the 2021 Anambra governorship election will not hold as scheduled.
Before Odumeje's prophecy, there has been unrest in the Southeast region part of the country.
Security threats in the region recently was a thing of concern and many had expressed fear that the November 6 election might be bloody.
Naija News reports that despite the obvious security threats, the Independent National Electoral Commissioner, INEC, had maintained that the commission is ready to conduct the election as earlier scheduled.
However, Odumeje had claimed while addressing his congregation on Sunday, October 16 that there will not be an election in Anambra, noting that he foresee violence.
Naija News understands that Odumeje told his church members that he foresees massive killings in Anambra. The controversial clergyman said he has been praying to God over the much-anticipated elections.
Odumeje said: "The future I am looking at, everybody will be shocked because there will be massive death. I am seeing a massive death. And it shall begun to the gun."
He added: "I am looking at an election that will come in Anambra State. Be praying. I don't see elections, I see deaths. I see deaths of guns[sic]."
"I don't see the election holding. I have been praying and telling God. Because I am seeing where people kill people. Don't say I did not said [sic] it."
Odumeje appealed to the political class, most especially those in the Southeast region of the country to listen to the pleas of the electorates.
He said: "People have decided to die fighting for their right, listen to them and settle issues, else I see mass death of both politicians, prominent men, and the masses".
Watch Odumeje's prophecy below:
However, one could conclude that Odumeje's prophecy on the Anambra election did not come to pass after a massive turnout was witnessed on Saturday at various polling units.
The Indigenous People of Biafra, IPOB who had earlier declared sit-at-home on the Election day, subsequently withdrew their verdict and this in a way contributed to the unexpected turnouts today by the electorates.
Though voting did not take place in some polling units, this was due to the malfunctioning of Biometric Voters Accreditation Systems, Naija News observed.
To ensure all votes count, the Nigerian electoral body, INEC has announced that the voting exercise will continue on Sunday in all affected polling units.
Pls SUBSCRIBE to this blog YouTube channel