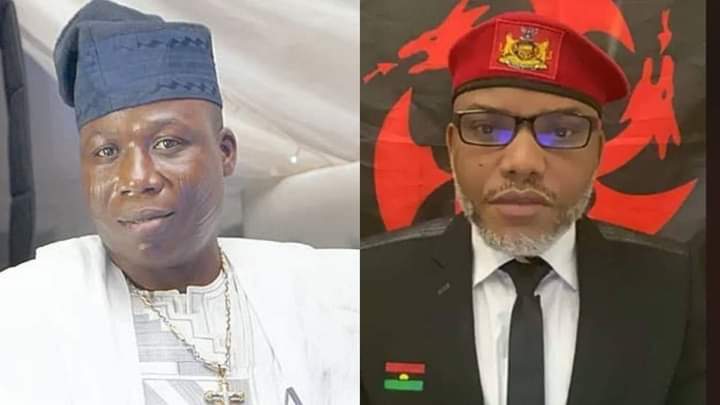 President Muhammadu Buhari has been cautioned by the coalition of Yoruba self-determination groups that silencing the leader of Ilana Omo Oodua, Prof Banji Akintoye, Yoruba Nation agitator, Sunday Igboho, and the leader of the Indigenous People of Biafra, Nnamdi Kanu will not put an end to agitation in the country.
The coalition gave this warning while reacting to the attack on Akintoye's residence in a statement released through its Secretary-General, Steve Abioye.
Recall that unknown gunmen attacked the Ado-Ekiti residence of the renowned historian over the weekend.
The spokesperson of Ilana Omo Oodua, Maxwell Adeleye, while confirming the incident said the gunmen climbed a chair outside the fence on Saturday to access the compound.
He however stated that the professor was not at his residence when the gunmen attacked, adding that no one was hurt.
The coalition in its warning to President Buhari said, "The Coalition of Yoruba self-determination groups receives the news of the attack on the house of the leader of Ilana Omo Oodua, Prof. Banji Akintoye with an utter sense of disappointment.
"Prof. Banji Akintoye is an elder statesman who has paid his dues in ensuring a better society and general well-being of Yorubaland, and even Nigeria, before he made a detour to Yoruba secessionist agenda as a result of the refusal of the northern establishment to accept restructuring of Nigeria.
"In as much as the coalition is not linking the Federal Government to this dastardly act of cowardice, it is our belief that the state should ensure that thorough investigation is carried out to convince Nigerians that government knew nothing about it and the perpetrators brought to book."
The coalition further stated that the only way President Buhari-led government can end agitations in the county is to either bring back the pre-1966 constitution, which enabled each region of Nigeria to be autonomous of the center, or to revisit Jonathan's national conference report.
The coalition added, "Federal Government needs to be told the gospel truth that silencing Nnamdi Kanu or Igboho or Akintoye or Dokubo is not the way out of separatist agitation as more of such people will still emerge in the society except the government does the needful of genuine restructuring based on people's constitution."
Pls SUBSCRIBE to this blog YouTube channel