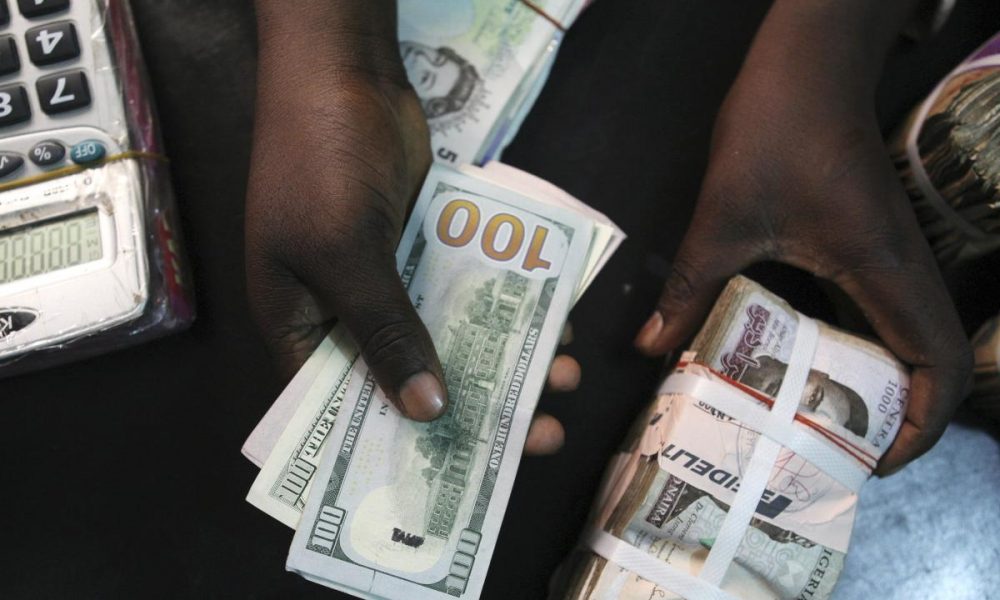 This is the news about Dollar to Naira rate at the official and black market exchange rate Today November 1st 2021.
Read Naija News update on the official dollar rates as well as Black Market rates, Bureau De Change (BDC) rates, and CBN rates.
How Much Is Dollar To Naira Exchange Rate Today Official Rate?
The official rate today, Monday November 1, for $1 dollar to naira = ₦(yet to be disclosed)/$1.
According to the data at the FMDQ Security Exchange where forex is traded officially, exchange rate between the naira and the US dollar opened at ₦(yet to be disclosed)/$1 on Monday 1, after it closed at ₦415.10 to a $1 on Friday, 1 November 2021.
How much is exchange rate of Dollar to Naira in Black Market today?
The exchange rate for a dollar to naira at Lagos Parallel Market (Black Market) for today, Monday, November 1st sells at N572/1$, according to sources at Bureau De Change (BDC).
Please note that the Central Bank of Nigeria (CBN) does not recognise the parallel market (black market), as it has directed individuals who want to engage in Forex to approach their respective banks.
Trading at the official NAFEX window
The exchange rate between the naira and the US dollar opened at ₦414.49/$1 on 29 October 2021 and closed at ₦415.10/$1. Showing no change.
According to data from FMDQ, forex turnover for Friday, 29 October 2021 closed at $93.71 million down from $147.44million.
Meanwhile, the Nigeria Deposit Insurance Corporation, NDIC, has explained that over ninety-seven per cent of depositors' accounts are fully covered by insurance in a case of bank failure.
The corporation assured that depositors would be able to recover their funds with this development in the event of any bank closure and hence should not be afraid of carrying out their transactions.
Naija News reports that NDIC managing director and CEO, Bello Hassan, disclosed this while speaking at the 18th edition of the workshop for business editors and Finance Correspondents Association of Nigeria (FICAN), in Gombe State.
Hassan revealed at the event that the overall number of accounts in the deposit money banks across the country as of 2019 stood at 128.4 million.
The NDIC chief, however, said there is the need to further educate depositors on the importance of coverage as the coverage limits have always been misunderstood by stakeholders.
Pls SUBSCRIBE to this blog YouTube channel