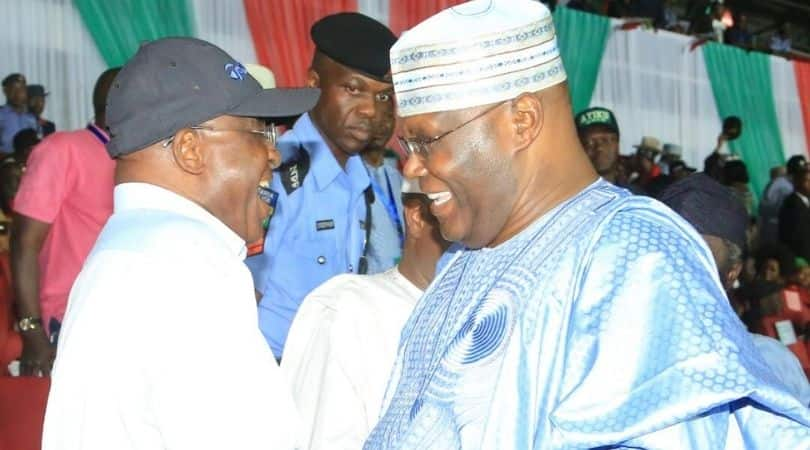 The presidential candidate of the Peoples Democratic Party (PDP) in the 2019 elections, Atiku Abubakar, has met with a former Senate President, David Mark.
Naija News reports that both PDP chieftains met on Monday night to discuss the chairmanship position of the party zoned to the North by its NEC.
A source in Atiku's camp told The Nation that the former vice president met Mark to deliberate on the unity and progress of the party ahead of the national convention.
He added that Atiku also informed Mark about the chairmanship aspiration of his former Director-General of his campaign, former Senate President, Dr Iyorchia Ayu.
He, however, claimed that Atiku does not want to take sides, considering the fact that the two aspirants are his friends.
The source said: "The two leaders met for the sake of unity and progress of the party. The ex-Vice President does not want to take sides. I think he is looking at the larger picture of 2023.
"We are all concerned about the politics of the national chairman, we do not want the party destabilized under any guise.
"Maybe the ex-VP is trying to see how the party can manage the micro-zoning in the North to keep the zone intact for the next elections."
Also reacting, a member of the National Working Committee of the PDP said Atiku's visit to Mark was a tactical endorsement of the former Senate President.
He said: "We have heard of the talks between Atiku and Mark. I see Atiku's visit to Mark as a tactical endorsement of the former President of the Senate.
"I think we are beginning to have a direction of where the chairmanship ticket will go."
This news medium reports that Ayu and Mark are from Benue State and are both former Presidents of the Senate.
Other PDP stalwarts contesting for the chairmanship position include former Minister of Information, Prof. Jerry Gana, former Governors Ibrahim Dankwambo, Ahmed Makarfi, Ibrahim Shema, and Babangida Aliyu.
Pls SUBSCRIBE to this blog YouTube channel