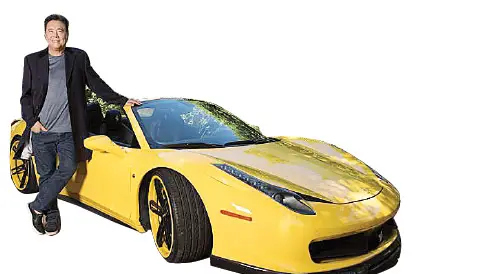 Best known as the author of Rich Dad Poor Dad, Robert Kiyosaki has certainly played an important role in challenging and changing the way many people around the world think about money.
As an entrepreneur, educator and investor, Kiyosaki has been a champion of the idea that the world needs more entrepreneurs than employees.
Although some of his perspectives on money and investing often contradict conventional wisdom, Kiyosaki has earned an international reputation for straight talk and courage which established him as one of the leading experts in the field of financial education.
His point of view is that the age-long advice of going to school, getting a good job, saving money, getting out of debt and retiring with monthly pensions has become obsolete in today's fast-paced age known as the information/digital age.
His 'Rich Dad' philosophies and messages challenge the status quo and his teachings encourage people to take initiative to become financially educated and play an active role in investing for the future.
His 1997 book, Rich Dad Poor Dad, co-written by American businesswoman, Sharon Lechter, has been regarded as a top personal finance book of all time. It has been translated into over 5o languages and reportedly sold over 30 million copies worldwide.
The book advocates the importance of financial literacy, financial independence and building wealth through investing in assets such as real estate and businesses, as well as increasing one's financial intelligence to improve one's business and financial aptitude. The book was written in the style of a set of parables, ostensibly based on Kiyosaki's life.
Additionally, the book was on the New York Times bestsellers list for over six years and from it the 'Rich Dad' series of books and related products were launched.
The book also received both praises and criticisms. Among those who endorsed the book included the United States President Donald Trump; American talk show host and media mogul Oprah Winfrey; actor Will Smith; and American fashion entrepreneur and investor Daymond John.
However, some people also criticised the book, including American businessman and author, John Reed, who described it as full of "wrong, bad and dangerous advice."
Childhood
Born 72 years ago in Hawaii, US, Kiyosaki is a part of the Yonsei generation of Japanese Americans. His father, Ralph, was a teacher while his mother, Marjorie, was a nurse.
Kiyosaki later attended the US Merchant Marine Academy in New York and graduated in 1969 as a deck officer with a Bachelor of Science degree and a commission as a 2nd Lt. in the US Marine Corps.
After graduating from college, Kiyosaki took a job as a third mate at an oil company's tanker office. However, he resigned six months after to join the Marine Corps, serving as a helicopter gunship pilot during the Vietnam War in 1972, where he was awarded an Air Medal.
While he was still in the military, Kiyosaki enrolled in a two-year Master of Business Administration programme at the University of Hawaii, US, in 1973. A year later, he was honourably discharged from the Marine Corps.
After his discharge from the military, Kiyosaki took a sales job at Xerox for four years, where he said in his books that he developed business skills such as sales, marketing and negotiation.
He thereafter launched companies, some of which succeeded and flopped. In 1997, the year he published Rich Dad, Poor Dad, he launched Cashflow Technologies, Inc, a business and financial education company that owns and operates the Rich Dad and Cashflow brands.
In an interview with Forbes, Kiyosaki said his main earnings came through franchisees of the Rich Dad seminars, as well as real estate.
He has also been in the oil business since the late 1990s and owns a number of oil drilling operations and oil wells in Texas, Louisiana, and Oklahoma. In 2013, he invested in three new oil wells at a 10 per cent stake. By late 2015, he had amassed a portfolio of 400 privately controlled oil wells. In May 2016, he said he controlled over 10,000 apartment units producing over $1m in cash flow every month. He has also said he owns hotels and golf courses.
Five timeless lessons from Kiyosaki's 'rich dad'
Kiyosaki often said in his books that he grew up with two father figures – the first was his real father who he referred to as 'poor dad' while the second was his friend's father who he referred to as 'rich dad.'
While his 'poor dad' worked all his life as an employee and had virtually nothing to show for it when he retired, his 'rich dad' was an employer who owned businesses and became one of the richest men in Hawaii.
"I noticed that my poor dad was poor, not because of the amount of money he earned, which was significant, but because of his thoughts and actions," Kiyosaki wrote in Rich Dad, Poor Dad.
The following are some of the timeless lessons he said he learned from his 'rich dad' that helped him master money, build wealth and ultimately retire comfortably at 47.
Make your money work for you
To be rich, Kiyosaki said people needed to control two emotions: fear and desire.
He said, "They fear not having money, so they work harder. However, when they get paid, greed kicks in, which causes them to think of all the things they could buy.
"Fear is essentially what drives us to get out bed and go to work every morning and desire is why we are tempted by pay rises because we want increasingly expensive toys as we go through life, from sweets to clothes, cars and houses."
So how do you control these emotions? The entrepreneur advised against thinking about a salary but about how to generate money through investment vehicles such as business and real estate.
He said, "Most people miss out on opportunities because they chase after money and security, but once you get rid of this, you are able to view the world in a different way.
"There is no doubt that it takes work to get rich, but you need to do the right kind of work."
Mind your own business
Kiyosaki recommended that people should take control of their financial future by building their dreams. He advised trying to figure out different legitimate ways to build wealth, look for opportunities or invest in businesses to build more assets and generate a strong flow of income.
Pay yourself first
The investor said each month, people should invest a certain amount of money into an income-generating asset before they pay their bills.
"And if you come up short? Use this pressure to inspire you to come up with innovative ways to get enough money to pay the bills before debtors come knocking at your door," he said.
Kiyosaki, however, said this did not mean people should be irresponsible by avoiding to pay their bills.
"Just pay yourself first, not last. If you pay yourself last, you will not feel the pressure, but you also probably will not come up with new sources of income either," he said.
Work to acquire life skills, not for money
Kiyosaki said, "You have probably heard this before and dismissed it as advice given by people without things to pay for: people are 'one skill away from great wealth.'
"Life skills (like communication, management of systems and people skills) are just as important for financial success as more technical knowledge but they are not taught in school.
"Work on acquiring these life skills to help yourself get on the path to financial freedom. Effective communication and people management skills, for instance, make it easier to find meaningful information that you can use to climb up the ladder."
Be bold
"Often in the real world, it is not the smart who get ahead but the bold," Kiyosaki said, criticising the age-long thinking of putting away some cash every month in a bank account and come back to it years later after retirement.
The entrepreneur argued that this thinking could limit people's mindsets and the ability to take advantage of opportunities.
He said,"The bottom line is that taking a calculated risk can help you build wealth. And you become smarter with each experience."
Net worth, houses and cars
As of 2019, Kiyosaki was reported to have a net worth of $80m (N29bn).
Apart from his real estate portfolio, the entrepreneur resides in a mansion in Phoenix, Arizona, US with his wife, Kim, who he married in 1986.
The entrepreneur and author also owns some of the world's luxury cars, including two Ferraris, Aston Martin and Rolls-Royce.
Source: punch
Pls SUBSCRIBE below to our Youtube channel and mailing list to get fresh updates on money making and inspiring videos and articles.