According to Forbes, Moneymagazine and CelebrityNetWorth, the following are the top 10 Richest Presidents in Africa 2019.
Top 10 Richest Presidents in Africa 2019
King Mohammed VI ($5.8 billion) – Morocco
Ali Bongo Ondimba ($1 billion) – Gabon
Teodoro Obiang Nguema Mbasogo ($600 million) – Equatorial Guinea
Uhuru Kenyatta ($500 million) – Kenya
Paul Kagame ($500 million) – Rwanda
Cyril Ramaphosa ($450 million) – South Africa
King Mswati III ($200 million) – Swaziland
Abdel Fattah el-Sisi ($185 million) – Egypt
Isaias Afwerki ($100 million) – Eritrea
Idriss Déby ($50 million) – Chad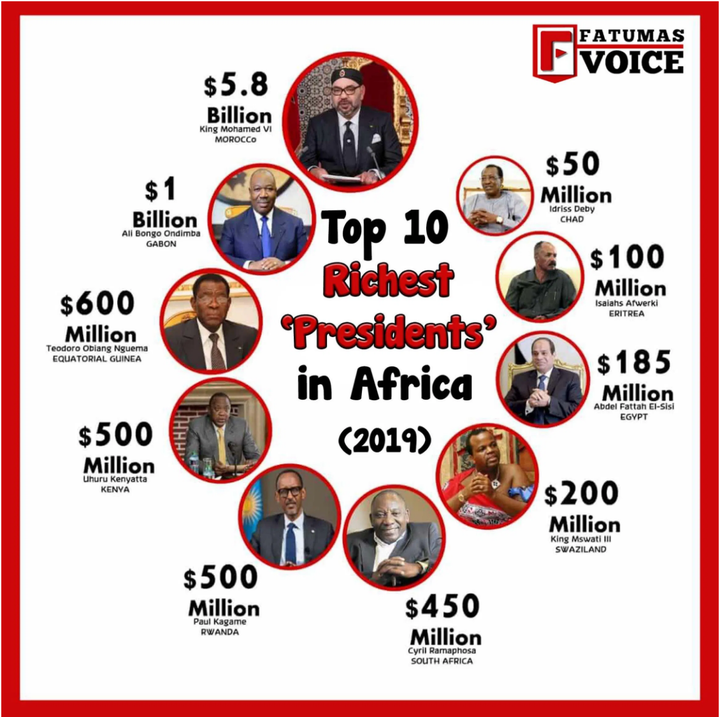 Mohammed VI of Morocco is the richest president in Africa with an estimated net worth of about $5.8 billion. Born on August 1963 in Rabat, Morocco, Mohammed VI has been the King of Morocco for the past 15 years. Raised in wealth, power and royalty, he had the opportunity to be educated at the most prestigious schools worldwide. After he ascended to office in July 1999 following the death of his father, King Hassan II.
His net worth is said to be $5.8 billion. According to reports, Mohammed VI's fortune largely stems from a Moroccan company called (SNI) Societe Nationale Investissement, where he has large assets worth over $10 billion and also from gigantic companies such as Marjane Holding and SNI's 48% shareholding in Attijariwafa – Morocco's largest bank.
Pls SUBSCRIBE below to our mailing list to get fresh updates on money making and inspiring articles.