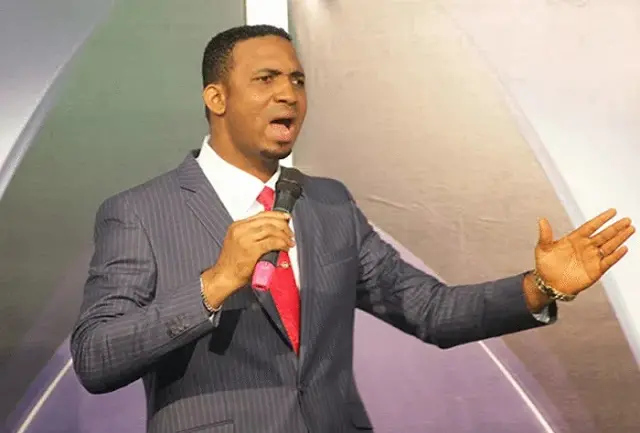 Chris Okafor's profile
Full Name: Chris Okafor 
Date of birth: 4th April, 1970 
Age: 49 years 
Nationality: Nigerian 
Occupation: Minister, televangelist 
Net Worth: ₦100 million 

Chris Okafor Biography, Date Of Birth, Early Life, Family, Education, Career And Ministry
Born on the 4th of April, 1970 in Benin City, Edo State, Nigeria, Chris Okafor is a Christian minister and televangelist.
He also runs a skill acquisition centre and scholarship scheme for the underprivileged via The Chris Okafor Humanity Foundation.
Mr Okafor is popular across Africa through the Chris Okafor World Outreach Ministry (COWOM) and has reportedly made a good number of accurate prophesies.
He came on the wrong side of the media when in September 2019, a video of him performing a rather dramatic miracle with the same woman as three other pastors went viral.
The ministry however denied any fraud in the act, claiming it was only a situation of miracle seeking by the woman.

Chris Okafor Books And Publications
Some of his books and publications include:
• Changing Family Altars and Patterns Volume 2 ISBN 978-978-935-408-5

• The Jinx Breaker ISBN 978-978-939-394-7
• Changing Family Altars and Patterns Volume 1 ISBN 978-978-935-407-8• Dealing with Enemies Behind The Scene ISBN 978-978-935-406-1

Chris Okafor Net Worth
Chris Okafor is a top Nigerian pastor. He is estimated to be net worth over ₦100 million.

Social Media Handles
You can connect with Chris Okafor on:
Instagram @ChrisOkaforMinistries
Twitter @DrChrisOkafor1
Pls SUBSCRIBE below to our mailing list to get fresh updates on money making and inspiring articles.